Velodyne Lidar's (NASDAQ:VLDR) stock has been on a downtrend and currently trades at around $2.18. However, there have been times when the share price has produced episodic upsides, for example on February 8, following an agreement with Amazon (NASDAQ:AMZN) for the purchase of a stake valued at about $200 million in the sensor manufacturer.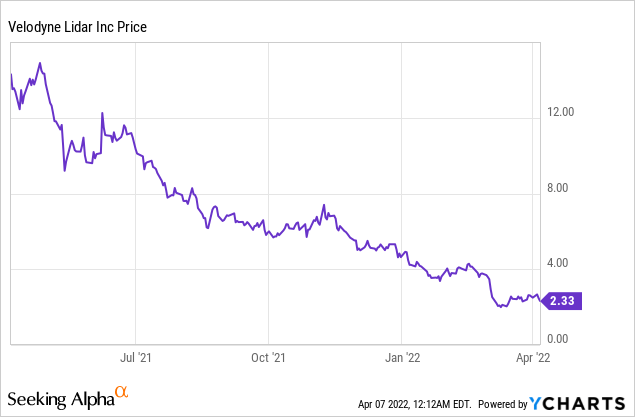 Coincidentally, February 2022 also saw an intensification in the attempt of the giant online retailer's employees to form part of a trade union and, consequently, Amazon's interest in the lidar play could be to reduce labor intensity. This thesis will also assess Velodyne's production capacity as well as its ability to deliver on top line and profitability, especially in view of the tussle between its founders and the current chairman.
Amazon's interest in lidar
First, when it comes to big tech investing in lidar, or a technology that uses light to detect and sense objects, most people automatically think about autonomous car driving, and for this matter, Amazon's interest in this field goes back to February 2019, when it participated in the $530 million fundraising campaign for start-up Aurora Innovation. Later, it acquired Zoox for over $1 billion with the move generally viewed as a way to compete with Google's (GOOG) Waymo, an autonomous taxi service.
Thinking laterally, Velodyne's lidar has application areas beyond taxi and passenger vehicles and can also be used to automate logistics capabilities in Amazon's warehouses where it stores and has to streamline goods before they are delivered to customers.
For this purpose, out of Velodyne's three target markets, it is industrial and robotics that is closest to being commercially deployed in large-scale supply chain automation projects. Examples are warehouses, distribution, or fulfillment centers where lidar-enabled robotics have to move goods with a high degree of safety and precision.
Thinking aloud, the technology should allow Fulfillment by Amazon (FBA) which is the online retailer's fulfillment center to become more efficient and mitigate supply chain bottlenecks as seen during the first phase of the pandemic in 2020.
Additionally, it should contribute to maintaining continuity of operations in case its U.S. warehouse workforce starts to initiate some form of strike action.
Moving out of the warehouse, short-haul logistics whereby goods are delivered from a regional warehouse to homes and businesses could also benefit as Amazon continuously seeks to optimize costs by investing in automation. Precisely for this purpose, Velodyne's lidars are being tested at eCommerce retailers for fulfillment and delivery. One example is Gatik, an AI play working with Walmart (WMT) to develop use cases where robots deliver goods in self-driving light-duty trucks covering short distances.
Potential margin gains
Shifting to profitability, according to some estimates, Amazon's operating expenses should increase by $150 million for every 1% of the workforce that joins a trade union. Thus, one can imagine the cost savings opportunities brought by the automation of FBA which requires considerable man-hours of work for tasks like pickup, packing, and shipping.
Automating warehouse processes using lidars and robotics, all connected together through private 4G or 5G mobile networks and driven by AI, amounts to implementing Industrial 4.0 or the fourth industrial revolution. Here, Weg, which develops technologies to achieve more efficiency and sustainability, estimates that there could be an increase in labor productivity by 10% to 25% with Industry 4.0.
Now, for the fourth quarter of 2021, Amazon's online store sales and third-party seller revenue streams brought $66.08 billion and $30.32 billion in net sales respectively, with $17.78 billion obtained from AWS cloud. Total revenues were $137.4 billion for Q4 with gross profit margins of 39.7%.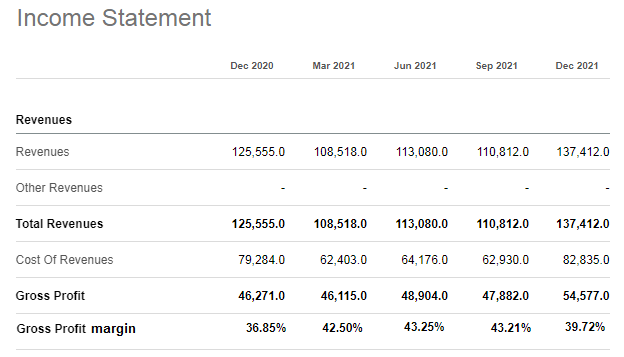 Given that it is online stores and third-party sellers which mostly use warehouse and fulfillment centers and that together these two revenue streams constitute about 70% of Amazon's total income as per the latest reported quarter, a moderate increase in labor productivity by just 10% (as per the lower end of Weg's range) could significantly increase Amazon's margins to 49.7% (39.7+10).
Now, bearing in mind Amazon's strong presence as a service provider in private 5G and Industry 4.0 together with its advanced cloud capabilities, the company can rapidly deploy lidar-based sensors at an industrial scale once testing is completed. Then, it becomes important to assess whether tiny partner Velodyne can deliver at scale and in a profitable manner too.
Velodyne's production and profitability
First, mass production implies product optimization and I have noted that the company's strategy to develop sensors using fewer components has worked and translated into a lower bill of materials. Second, instead of the unit-based design approach used earlier, a platform-based one focusing on miniaturization and standardization has improved both scalability and efficiency. As a result, the cost of revenues in Q4-2021 has been brought down by 36% compared to the same period last year.
Cost reduction has also led to cheaper products and with over 67K sensors shipped to date, fourth-quarter revenues increased to $17.5 million, up by more than $4 million. This increase was also made possible through higher per-unit pricing and there was an improvement in operating margins too.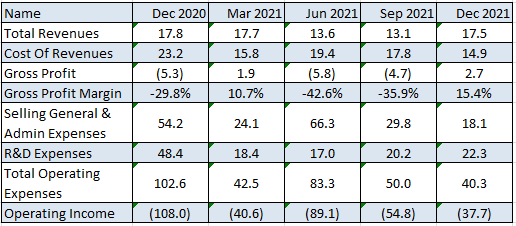 At this stage, some investors may argue that the gross margins of 15.4% are on the low side. To reassure them, I performed a comparison with peers Innoviz (INVZ) and Luminar (LAZR) which revealed that Velodyne exhibits better gross margins. This said, margins remain quite compressed in this industry where one main problem is producing at scale and cost-effectively at the same time.
To address the matter, in addition to the way it designs and develops its sensors as I talked about earlier, Velodyne has also been progressing on the offshoring front for high volume products in 2021, with 100% of its Puck product line now produced by contract manufacturers. The same applies to 80% of the Velarray line with the rest to be transferred offshore by year-end.
Now, with offshoring comes potential supply chain bottlenecks and one factor which should help the lidar play is the higher ratio of software to hardware in the total solution. Higher software usage not only makes configuration easier as it can be amended rapidly using a keyboard from anywhere, in contrast to hardware which for amendment purposes, has to be physically altered in a factory and shipped back to customers' sites.
This is especially true when products are being tested in driverless vehicles by the likes of Ford Otosan, the Turkish JV of Ford Motor (F) engaged in manufacturing all-electric vehicles including trucks. These activities form part of Velodyne's automotive target market with a particular emphasis on trucks, used to transport over 72% of goods in the U.S.
Automotive also includes ADAS (Advanced Driver Assistance Systems) used by autonomous shuttles, Robo-taxi innovators, and electric vehicle OEMs for safe navigation. The company also has an intelligent infrastructure target market consisting of real-time analytics applications for smart cities and predictive tools to improve traffic flow.
Therefore, in the worst-case scenario that the Amazon deal takes time to materialize for the warehouse robotics market, the company has other target markets to rely on.
At this juncture, it becomes important to look at the partnership's time factor.
Valuations and key takeaways
Noteworthily, Amazon's partnership agreement does not imply the immediate disbursement of $200 million. Instead, it involves the use of warrants, or rights to purchase shares of Velodyne, exercisable any time before Feb. 4, 2030. Thus, this is a long-term endeavor.
As for valuations, the exercise price of the warrant is $4.18 per share, which means an 89% premium with respect to the current share price. Interestingly, analysts at Morgan Stanley have a price target of $12 for Velodyne based on criteria like industrial opportunities and logistics supply chain, but I do not share their enthusiasm, at least for the short term. The reason is that Velodyne could face severe constraints in terms of critical semiconductor components required for sensor production. Consequently, with limited visibility, the executives have not provided full-year guidance as in the past. Therefore, balancing it out, a target of $4.18 seems reasonable.
As for Amazon, the aim of the agreement is to improve customer experience and move toward more robotics-driven operations in order to reduce errors when dispatching items. Equally important, it reduces the risks of strike-related disturbances impacting delivery operations. Additionally, assuming that the 10% gross margin gains I mentioned above convert to an earnings gain of just 5%, the current price to earnings ratio of 48.71x would have to be adjusted to 51.14x (48.71 x 1.05). This would translate into a target share price of $3,243 based on the current $3,089. Furthermore, considering the large amounts the retailer spent on self-driving earlier on, the Velodyne deal represents a bargain when considering the huge opportunities.
This remains a long-term target and in the meanwhile, Amazon's stock is being impacted by higher inflation concerns as it forms part of the price-sensitive consumer discretionary sector.
Coming back to the partnership's prospects, the recent hiring of an Executive Vice President of Engineering who was formerly the head of sensors and optics technologies at Google should provide further impetus to Velodyne's shift to software and AI. Therefore, the lidar play can come up with the sort of cloud analytics tools that can integrate more easily with Amazon's platform.
Ending on a cautionary note, there are further downside risks for Velodyne's stock in case the tussle I mentioned above becomes a scuffle, including a full-fledged fight during a board meeting, but with a CEO who is delivering on top line and margins, results-oriented investors should not be too concerned. Tellingly, the company had $294.4 million of cash as of the end of last year with debt of only $17.8 million.