There's much more to selling on Amazon than just opening a merchant account and uploading your products. Let's take a look at how to sell on Amazon in 2021.
Amazon was a major economic force before the pandemic. And in this time of crisis, it proved it's a cutting-edge online retail platform. Its focus on customer satisfaction, speedy delivery, and growth made the marketplace stand out and accelerate its already massive growth.
This doesn't mean that anyone wanting to sell on Amazon is necessarily late to the game. In a business environment experiencing 20% growth per year, there is ample room for new initiatives.
It would be wrong, however, to assume that you can succeed simply by repeating what helped other people succeed on the Amazon marketplace. So how can you sell on Amazon in 2021? What products are suitable, what preparation do you need?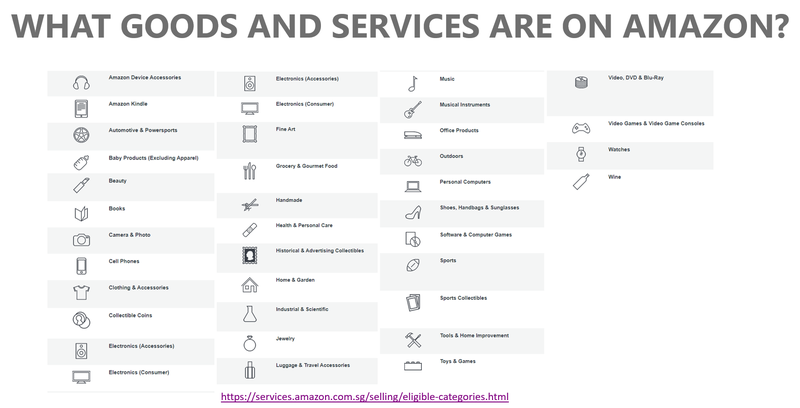 Who is selling on Amazon best for?
Amazon started out selling books. It was a deliberate, well-considered choice made by its founder Jeff Bezos. Books were a standardized product in high demand, and with a reasonable cost of shipping: perfect for e-commerce.
If you're wondering whether you should be selling products on Amazon, perhaps you're preparing to launch an online business, or you're preparing a digitization of your business to move it from offline to online.
The nature of your brand, your products and pricing, and your target market can point you in the right direction.
A strong brand can be a great advantage but isn't a requirement.
Very low prices for physical products don't work well for e-commerce due to shipping costs.
Highly-priced products are often difficult to sell due to lower-priced alternatives.
New, innovative products don't work well on Amazon because people don't look for them.
Products with high sales volume or recurrent needs work better.
Let's look at some good reasons to sell on Amazon in 2021.
1. You sell luxury products
Amazon launched Luxury Stores in the U.S. in 2020. Many people are skeptical about selling luxury products in a marketplace so strongly focused on price competitiveness. But Amazon is not just any marketplace, and price is clearly not the only attribute it cares about.
Amazon has yet to expand Luxury Stores internationally or beyond Prime members. It's a select and restricted offering playing with the codes of the luxury industry.
It's an opportunity for challenger brands to gain market share. Those who wait to see whether this actually works risk having a hard time winning back the market share they lost while observing. This is another great reason to sell on Amazon in 2021.
2. You are in the B2B space
Yes, there's a dedicated marketplace for business-to-business (B2B) offerings called Amazon Business: https://business.amazon.com/. The buying experience is different and so are the product categories: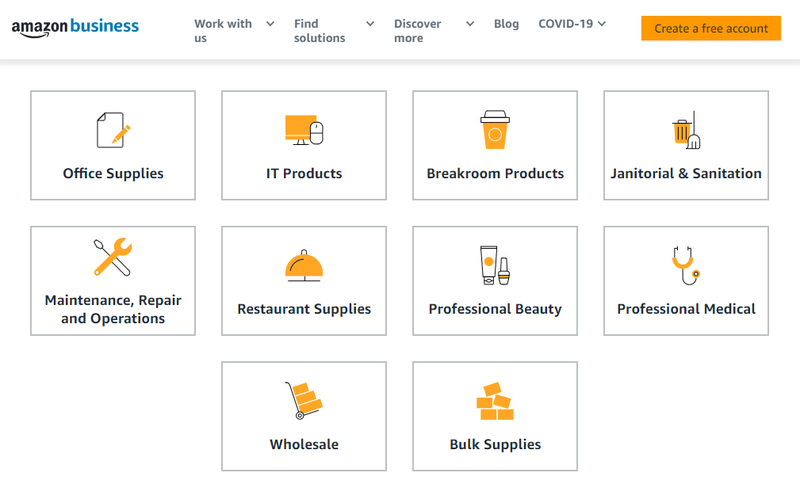 If you are in the B2B space, then this might be the right opportunity to become an Amazon seller.
3. Poland, the Netherlands, and/or Sweden are among your target markets
Amazon is expanding internationally. In Europe, it's now active in three more markets: Poland, Netherlands, and Sweden. International markets are a huge opportunity with Amazon, as the logistics barrier can be removed using Amazon FBA (Fulfillment By Amazon), and market access is an easy proposition.
4. Your business is undergoing a digital transformation
The COVID-19 crisis accelerated retail digitization. If online sales has become imperative for your business in 2021, then Amazon is one of the best places to expand.
Frank Sinatra put it quite well, although he wasn't referring to Amazon, "If you can make it here, you can make it anywhere."
What you need to decide before setting up your Amazon seller account
Before setting up an Amazon seller account, it's important to have a foundation for an e-commerce business. It's a numbers game, so do your business planning well. Don't forget the cost of the merchant account and handling fees, which can run up if your sales don't take off quickly.
But there's more to succeeding on Amazon than just planning.
1. Master selling online
You need a good mastery of selling online before launching on Amazon. The platform favors products that are inexpensive, which users love, and which sell a lot. The Amazon platform should probably not be the first place you sell your products online if you're just starting selling online.
2. Manage fulfillment
Amazon is obsessed with the user experience. If you're out of stock, your delivery is late, or your return rate is high, you won't appear prominently on the platform. Whether you use FBA or fulfill orders yourself, make sure your e-commerce fulfillment process is up to scratch.
3. Store marketing
Marketing an online store differs from marketing a physical store. Although you could receive a natural flow of visitors to your Amazon brand store when you launch, chances are you'll need to master online marketing to succeed on Amazon.
4. Price competitiveness
If your prices aren't competitive, consider whether Amazon is right for you. Although your product may be better than competitors and justify the price difference, the Amazon machine favors lower-priced products.
5. Retail readiness
You'll find the term retail readiness mentioned many times in relation to Amazon marketing. You might even consider it as Amazon SEO: optimization of your listings for Amazon search.
Being retail ready for Amazon involves optimizing:
Product titles and descriptions
Bullet points
Back-end keywords for common misspellings
Product images
Enhanced content in your product listing (known as A+ content)
Reviews and ratings
Available inventory
It's impossible to be fully retail ready before launching your account, but elements such as product titles and descriptions, and great photos should be optimized from the start.
How to set up your Amazon seller account
Setting up a seller account on Amazon is fairly easy. Assuming you're a business and expecting to sell more than 40 items per month, an Amazon merchant account will cost you $39.99 per month, drawn on your credit card.

Let's go through the steps of setting up an Amazon seller account.
1. Research your products
It's a good idea to research your products before opening your account. It's not always a good idea to launch your entire product catalog on the marketplace. All products require the same amount of work, but concentrate on the products most likely to succeed.
A tool such as CamelCamelCamel can help you look for price information in your product category, helping you find out whether your prices are competitive.
You can use certain SEO tools to find Amazon search volumes for keywords related to your products. KeywordTool.io and Ahrefs are good for this.
And finally, the Amazon Cost Calculator will help you estimate the margin on each product. Scroll down to the cost calculator on the page, input your cost of goods, sales price, and product category to see your margin per sale.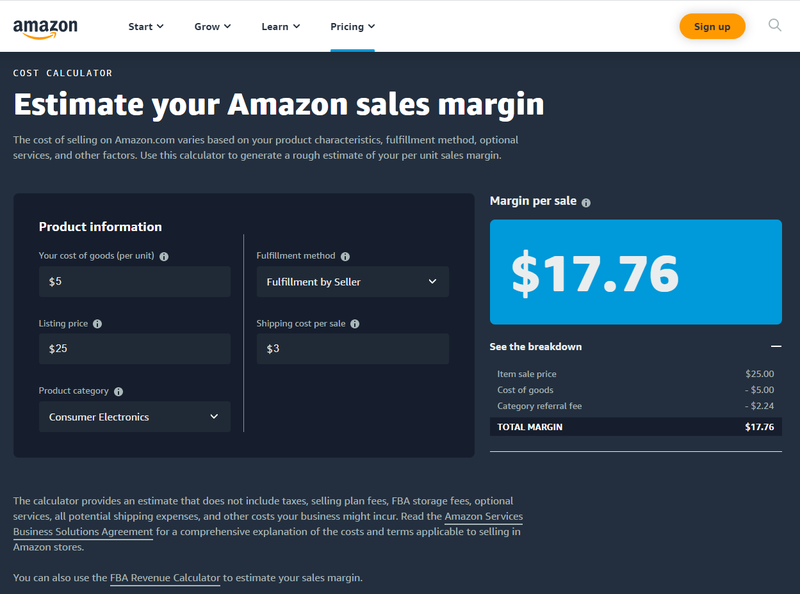 2. Register your brand
Register your brand with Amazon before launching on the marketplace. This protects you against copycats and allows you to create a brand store of selected products once you're on the marketplace.
3. Open your merchant account
You can now open your merchant account by going to Amazon seller central. Log in with any existing Amazon account you already have. Have the following information readily available:
Exact business and contact address
Mobile or telephone number for verification during the signup process
Chargeable credit card
Identity details including company registration number
The account setup process requires precision and detail. Information is verified to avoid fraud. You'll need to provide bank account information in your business name and a credit card for charges. Prepaid credit cards and PayPal accounts aren't accepted.
4. Add products and prices
You're now ready to add products to your merchant account. If you're not familiar with the process, start by adding products one by one.
If you're a more advanced merchant, or if you already have some experience with product listing details for Amazon, you can upload your products using an inventory file. This is great for synchronizing with a pre-existing e-commerce platform.
5. Start selling
At this stage, you're ready to sell on the Amazon marketplace. Consider setting up a brand store if you've registered your brand successfully. It's also a good idea to invest in Amazon Advertising to get your account going. The automatic targeting option can help you identify keywords to add to your product listings.
Ready to take off as an Amazon seller?
Much of your success on Amazon is likely to come from the quality of your products and the appreciation expressed by clients who bought them.
Another large source of success will be the constant maximization of your Amazon marketing efforts: promoting the right products, setting the right price, and excelling at fulfillment and customer service.
The success stories you hear about Amazon sellers with skyrocketing sales are true enough, but they only happen to a few sellers, and they don't happen by chance. Constant optimization will increase the chances of it happening to you.