Financial services and digital payments company Block (NYSE:SQ), formerly Square, is experiencing strong ecosystem growth. Gross payment volume and subscription revenues are growing quickly, but shares of Square are priced highly. PayPal's (PYPL) profit growth is cheaper and PayPal has a risk profile that is more skewed to the upside!
Square is expanding rapidly
More and more transactions are not involving any cash at all. Whether it is credit cards, online transfers or the use of Square's widely popular Cash App, the rise of the digital economy has had a profound impact on how we shop for goods and services, pay invoices and apply for personal and business loans. Square, which has been one of the earliest digital payment companies in the business, is benefiting immensely from accelerating growth in the "cash-free economy". Additionally, the pandemic boosted Square's business materially.
In the third-quarter, Square's revenues surged 27% year over year to $3.84B. Transaction-based revenues, Square's bread-and-butter, surged 40% year over year to $1.30B while subscription revenues grew the fastest at 55% year over year. The share of subscription revenues — which represent recurring revenues — increased from 14.8% in the year-earlier period to 18.1% in Q3'21.

(Source: Square)
Cash App and gross profit growth
As businesses changed the way they collect money during the pandemic, Square's gross profit also soared. In the third-quarter, Square saw a gross profit of $1.13B, which was only slightly less than the second-quarter gross profit record of $1.14B. Gross profits went up by 43% in the third-quarter, year over year, chiefly because of the Cash App's massive popularity with users.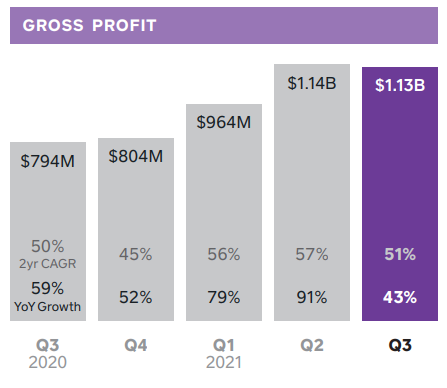 (Source: Square)
The Cash App is a mobile phone app that allows users to send money to other users and it is starting to make a big impact for Square, financially. Square's Cash App is delivering strong revenue and gross profit growth due to increasing customer uptake. In the third-quarter, the Cash App ecosystem delivered revenues of $2.39B, showing 16% year over year growth. Gross profits, however, soared at a rate of 33% year over year to $512M. Square's Cash App generates about 45% of Square's total gross profits.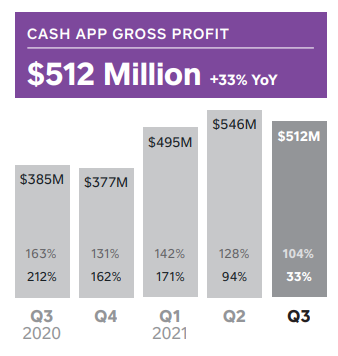 (Source: Square)
Growth in gross payment volume
The dollar amount of transactions processed through Square in the third-quarter was $45.4B, showing an increase of 43% year over year. Square defines this amount as the gross payment volume/GPV. Square's gross payment volume is similar to PayPal's total payment volume/TPV which in the third-quarter was $310B, so PayPal is still far ahead of Square regarding processing power. But Square has potential to catch up to PayPal, in part because there is a big opportunity for the digital payments company to grow GPV within the Cash App for Business. In the third-quarter, Square generated $3.7B in gross payment volume, showing 27% year over year growth. But only 8% of gross payment volume occurred in Cash App business accounts, which creates an opportunity for Square to leverage growing customer uptake.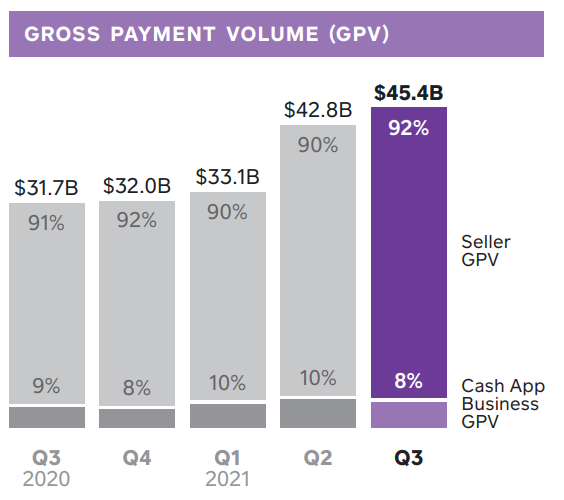 (Source: Square)
Regarding payment volume, Square is the number three in the market, after Zelle and Venmo, which is owned by PayPal. Venmo recently partnered with Amazon (AMZN) to bring its Venmo Checkout function to the online retail giant which will positively affect PayPal's payment volume in FY 2022.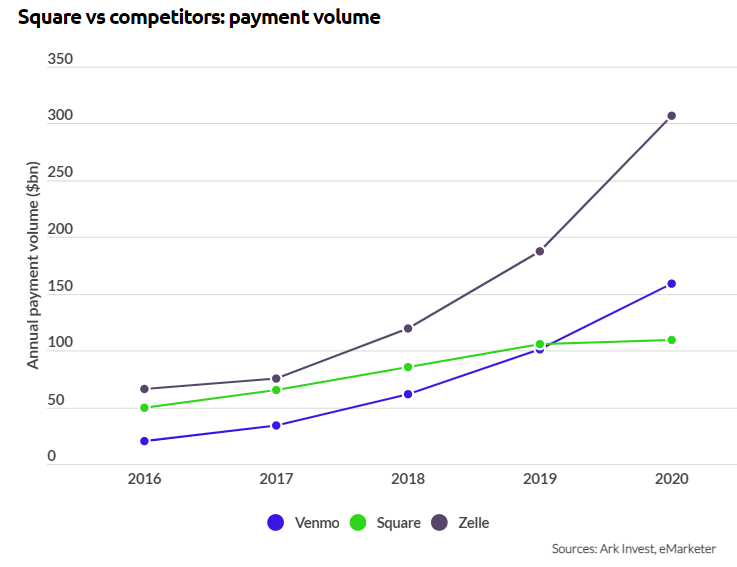 (Source: Business of Apps)
Square versus PayPal: Comparing valuation, size and profit growth rates
Both companies, Square and PayPal, are important for online businesses and the cash-free economy because they facilitate a growing amount of transactions. PayPal is about 2.8 X larger than Square regarding market value and generates about 50% more revenues.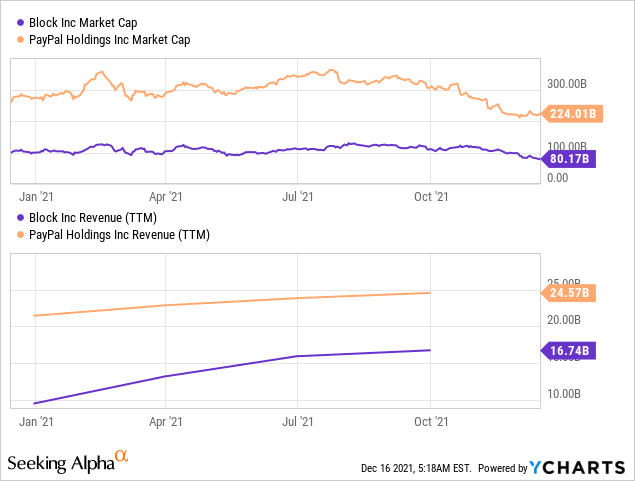 The direct comparison between Square and PayPal shows that Square is expected to grow revenues faster than PayPal until FY 2025, but the difference is not very large. Square is projected to grow revenues from $17.63B in FY 2021 to $39.95B in FY 2025 which calculates to a CAGR rate of 23%. PayPal is expected to grow revenues from $25.36B (FY 2021) to $51.86B (FY 2025), which is equal to a CAGR rate of 20%. However, PayPal's earnings growth is significantly cheaper than Square's: PayPal trades at a P-E ratio of 36 X (FY 2022) while Square trades at a P-E ratio of 94 X.
| | | | | | | | |
| --- | --- | --- | --- | --- | --- | --- | --- |
| Square | FY 2021 | FY 2022 | FY 2023 | PayPal | FY 2021 | FY 2022 | FY 2023 |
| EPS | $1.70 | $1.85 | $2.74 | EPS | $4.61 | $5.31 | $6.69 |
| YoY Growth | 101.98% | 9.14% | 48.18% | YoY Growth | 18.88% | 15.02% | 26.01% |
| P-E Ratio | 102.44 X | 93.86 X | 63.34 X | P-E Ratio | 41.34 X | 35.94 X | 28.52 X |
(Source: Author)
Risks with Square
Square is poised to see continual growth in its merchant network, gross transaction volume and revenues. Like PayPal, Square processes a significant amount of transactions every quarter, regarding both volume and absolute dollar amounts. But Square's earnings growth is priced very highly, creating risks for the stock if growth slows down unexpectedly. Square is also likely going to see increased competition from other companies that want a larger piece of the digital payments and processing pie. Longer term, failing to innovate and a declining market share in the payments industry are risks for Square and for PayPal.
Final thoughts
PayPal's and Square's commercial prospects are linked to the growth of the cash-free economy. Square is growing more quickly than PayPal right now and the business benefited from the COVID-19 pandemic which shifted more transactions to its platform… and especially into its Cash App ecosystem. However, a much lower P-E ratio, a larger merchant network and the Venmo/Amazon partnership create a more favorable risk profile for PayPal!