Agiliron is a multichannel commerce solution that supports inventory management, point-of-sale, e-commerce, and many other business functions.
For businesses looking to integrate their online and offline sales channels, customer information, and inventory into a single platform, Agiliron could be a beneficial tool.
If you're looking for the best retail software for your business, read on to find out whether Agiliron fits the bill.
Who is Agiliron for?
When the scope of the Agiliron product is considered, the solution is aimed toward medium, large, and enterprise businesses. Its tagline is, "Sell more in more places, but manage in one," and is designed to help businesses who sell products integrate their online and offline sales channels and various other business operations.
It's particularly suitable for retail and wholesales businesses, with its password-protected online stores that allow you to control who can access product lists and prices, and warehouse and inventory management tools.
It's also recommended for those who want to run an e-commerce store and have Agiliron host the site with zero extra costs.
Agiliron's features
Agiliron offers the following features:
Inventory management
Agiliron's inventory management feature allows retailers and wholesalers to manage their inventory from across all channels from one database. This includes in-store, online, and third-party marketplace inventory.
Some notable Agiliron inventory management features include:
Price books for customers, channels, and other product segmentation
Channel management to configure sales channels
Real-time capture of all transactions from all channels
Serialized inventory
Product customization
Multilocation inventory support
Shipping label generation
Manage orders based on fulfillment stage
Multichannel commerce
Agiliron syncs all online and offline commerce into one single-use and centralized hub. The benefit of this for users is that they don't need to log in to multiple systems to access and manage inventory, and all inventory is synced and updated across stores.
If something sells in your offline store, the transaction will be recorded across all systems so that inventory levels are accurate.
Point-of-sale
If you're looking for a stand-alone retail POS system, Agiliron is not the tool for you. Though it does have solid POS features, the tool is likely too expensive and not specialized enough to suit your needs.
The great thing about Agiliron's POS functionality is that it's fully mobile, and requires no internet connection to work. In fact, it automatically switches to offline mode when it doesn't detect an internet connection.
Supported payment methods include cash, credit cards, store cards, gift cards, store credit, purchase orders, and charge-to-account transactions, but there's little information available about its ability to process mobile payments or whether it offers a virtual terminal.
Agiliron POS offers an unlimited number of stores and checkout lanes, and the POS user interface is customizable according to your business needs.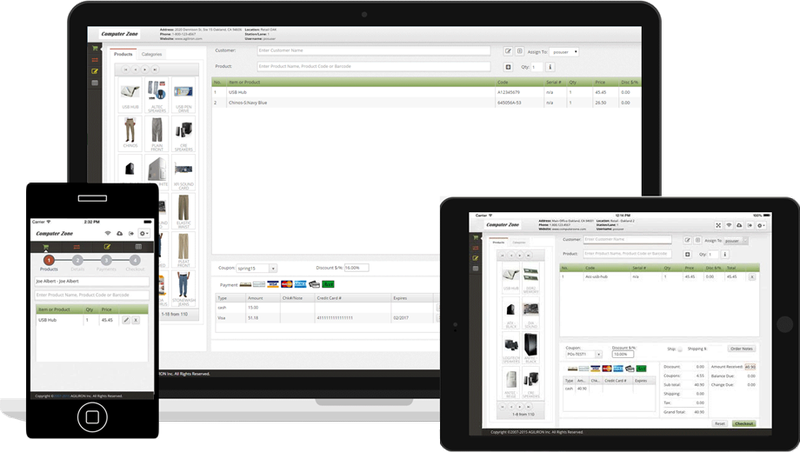 Integrations and Agiliron API
Agiliron integrates with a large number of software systems and marketplaces to help users synchronize operations.
Agiliron integrates with:
Other notable integrations include ShipStation, Office 365, UPS, and Zapier.
Agiliron's API allows users to integrate the solution with other third-party systems. Zapier can also connect Agiliron with over 2,000 applications, with no coding necessary.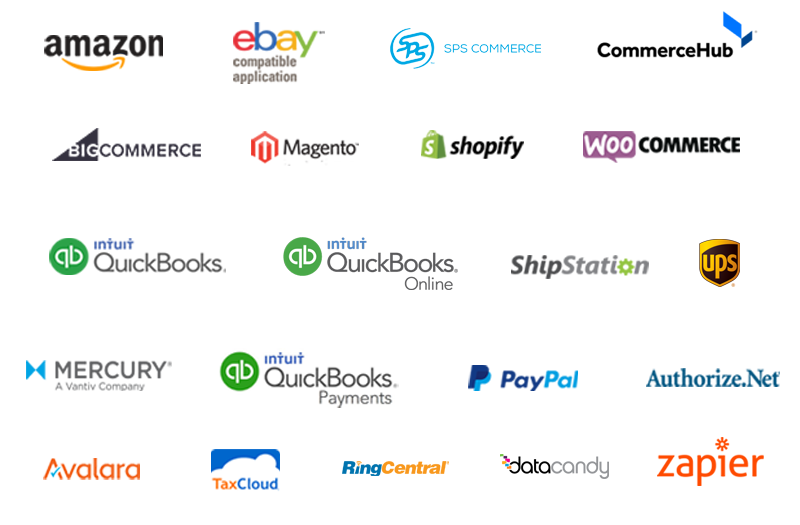 B2B and B2C e-commerce
Agiliron offers support for both B2B and B2C e-commerce stores.
For both B2B and B2C e-commerce stores, users have access to mobile-optimized and customizable design templates, and stores can be hosted by Agiliron for free, though you can use your own hosting provider.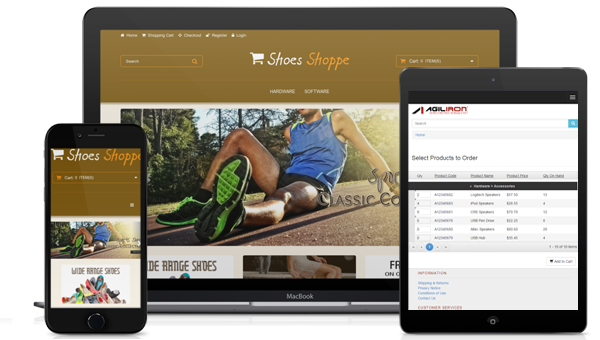 Existing B2C stores can be integrated with Agiliron, and users have access to features including product catalog management, product pricing, order management, fulfillment, and accounting. A wide range of pricing formats are supported, such as fixed prices, reserve, buy it now, and Chinese/Dutch auctions.
For B2B e-commerce stores, users can password protect stores (so that wholesale pricing and product data can only be accessed by certain people), access display inventory information, set minimum order quantities, and use Agiliron's built-in CRM for customer management.
Agiliron's ease of use
Agiliron comes with a steep learning curve — as it should, when the software is handling so many aspects of a business.
Many user reviews across the web mention that Agiliron's system is complex, and requires time-consuming and extensive staff training. Multiple reviews also comment on the outdated nature of its interface, which renders the software a little unappealing to use.
Other reviews mention that some Agiliron features require multiple steps for very common operations.
Agiliron's pricing
One of Agiliron's main draws is its payment flexibility. Agiliron runs as a monthly pay-as-you-go service, with no requirement for lengthy contracts.
This makes it ideal for businesses who don't want to commit to a product on a long-term basis. The vendor does, however, offer long-term contracts on request, and offers discounts for prepayment.
There are three pricing bands on offer, and all come with one user log-in and two sales channels. All bands also provide access to self-support tools, such as video support tutorials and an extensive online user guide.
There's no free version on offer, but let's go through what each pricing band looks like:
Premier: Priced at $85/month when billed annually and $99/month when billed monthly, the Premier package includes unlimited orders, QuickBooks integration, POS, CRM, e-commerce store, e-commerce integrations, eBay and Amazon integrations, and unlimited email support.
Enterprise: Priced at $169/month when billed annually and $199/month when billed monthly, this package includes all features in the Premier plan, plus unlimited phone support, advanced business intelligence, B2B store, multiple stock locations, warehouse mobile app, EDI integrations, custom communication templates, and advanced inventory management.
Global Enterprise: Priced at $255/month when billed annually and $299/month when billed monthly, this pack includes all of the Enterprise features, plus channels across multiple countries and support for multicurrency operations.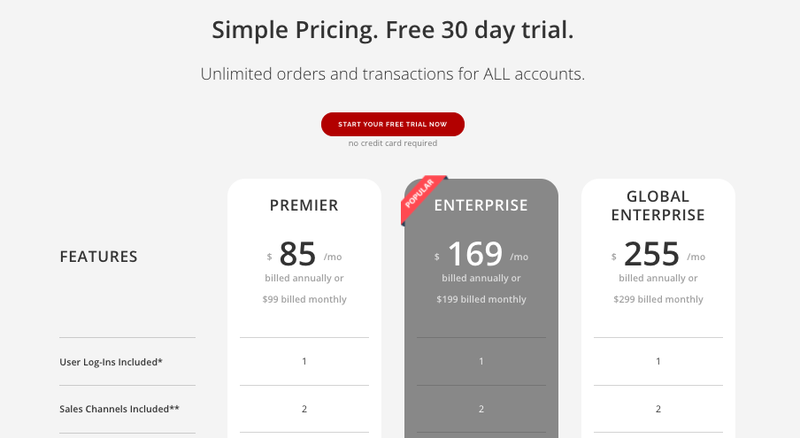 Agiliron's support
There's not much to say about Agiliron support, except to say that it's a little lackluster for a company proffering to support so many facets of a business's operations.
The Enterprise and Global Enterprise pricing plans include "unlimited phone support," but that's only if you have an issue from 9 a.m. to 5 p.m. (Pacific Time), Monday to Friday.
Users can also get in touch via email anytime and Agiliron claims a 24-hour response time.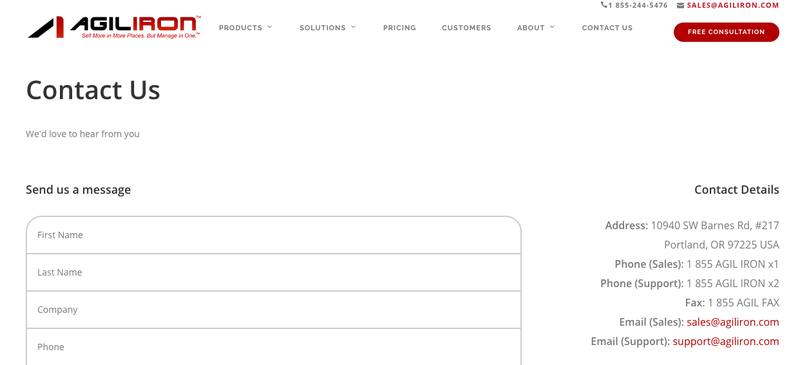 Benefits of Agiliron
The main benefit of Agiliron is its multichannel abilities. If you sell in both brick-and-mortar and online stores, then Agiliron connects your inventory management, order management, and CRM. Instead of using multiple end-to-end solutions, Agiliron centralizes multiple operations in one place.
It also integrates with a large number of other software solutions and marketplaces.
Agiliron: Jack of all trades, master of none?
Agiliron crams a lot of functionality into one system, which is what you'd expect from a multichannel commerce solution. However, the solution left me thinking that though it has a good handful of solid features, it might be trying too hard to be a retail ERP system, while not quite hitting the mark.
I'd expect a vendor that supports this range of business operations to have a lot more information about features, modules, and implementation freely available on their website. Plus, their customer support options are underwhelming, and there's a steep learning curve associated with using the product.
Agiliron seems like a good fit if you want to try out a multichannel commerce solution without signing up for a lengthy contract, if you want the ability to scale up easily, or if you like the look of their available integrations.